COMPANY OVERVIEW
Since 2001 we have prided ourselves on offering honest advice and quality service.
---
Operating since 2001, licensed in the City of Hamilton since 2004, we specialize in building great roofs for homeowners that care about quality and appreciate the hard work and attention to details that make a roof system endure the test of time. Each member of our team has a responsibility to the customer to be at their best and operate professionally. This will give you, our customer, an honest job every time.
The Owner is on-site to lead the installation and make sure your dollars are working their hardest. All our installers are put through rigorous training to ensure that all aspects of the job are executed perfectly. We personally inspect the material before install. Only defect free material is used.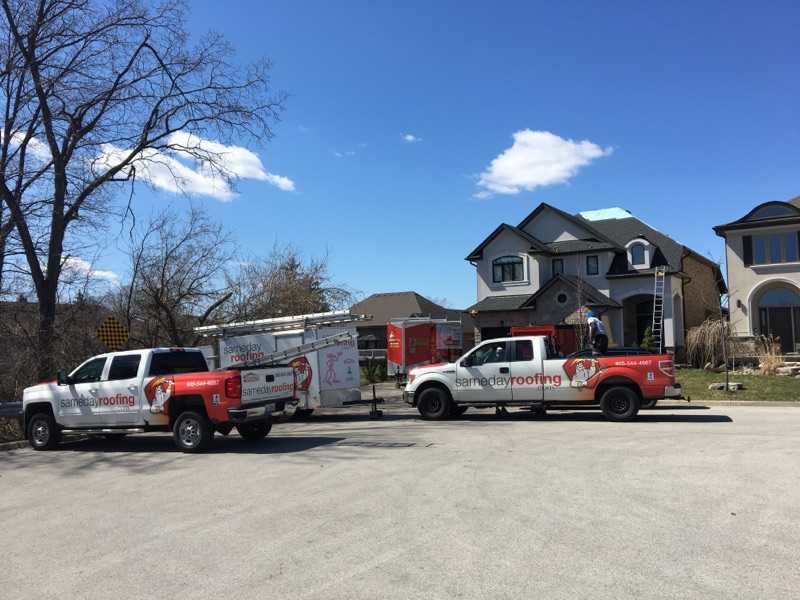 Trust the experts at Sameday Roofing with your roofing investment. Contact us for your free estimate today.
Definately recommend Sameday Roofing. This is a 5 star company. Sameday Roofing is mid level pricing wise, however all the materials they use are rated in the top 3 in Canada. They have an A+ BBB rating. This was a large job, with new blown in insulation, attic baffles, all new roofing deck boards, new vents and of course new shingles. They even went out of their way to remove an old, large aluminum awning. The entire job was completed in a day as advertised. The crew were polite, professional, knowledgeable and job site was very clean. This company is very honest and the owner sets a high standard for his crew.

Very pleased with their response and work done. I had a small job, a bay window roof, they fitted me in the next day between their big jobs. They take a lot of pride in what they do and interaction with the customer. I am seriously considering for them to do my main roof.

One phone call and the same evening I had my concern dealt with on my roof that another company had done a few years back. Richard came out and was so helpful and knowledgeable with it i felt at ease. What a excellent local company serving the Hamilton and surrounding area. Wish I had them do the complete job originally. I definitely would recommend them to friends and family.

I was very happy with the job that was completed at my house as they were very professional, courteous and have an extensive knowledge in this business. They completed the job in 2 days and kept the entire property clean throughout the entire process, I highly recommended.

I was very concerned about the condition of my roof. I gave Sameday Roofing a call and recieved an estimate within 48 hrs. They are a very professional group of guys, polite and and quality of work was excelent. Very pleased with the price, work, and timely manor the job was completed. Awesome Thank very much